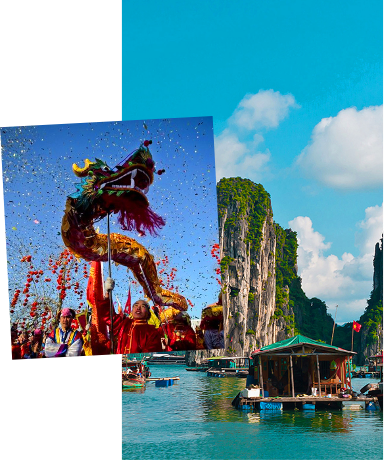 Adventure, Culture, And Colonial Style
If you are a fan of welcoming people and breathtaking coastlines, Vietnam is going to amaze you. Vietnam is the ideal destination if you are the type of person who enjoys thrilling adventures. The most popular tourist destination is the world's largest cave system, Hang Son Doong, which translates to "mountain house." Other popular activities include sledding down the sand dunes at Mui Ne and kayaking through the local waterways. And don't forget how enjoyable climbing can be when done properly: try a route near Halong Bay that leads both above and below water!
Vietnam is also a cultural and historical treasure trove, offering visitors a glimpse into its fascinating past. Ho Chi Minh City, the largest city, business, and financial center of Vietnam, has an illustrious history dating back centuries. There are numerous museums displaying the dark history of the nation's wars as well as the beautiful French colonial architecture. 
From the bustling city of Ho Chi Minh to the breathtaking Ha Long Bay, there are numerous sights and activities to enjoy.
[google_map_easy id="11"]