In African safaris, lodges, camps, and tented camps appear often to describe the type of accommodations we can expect. But those terms are not as clear as one would like. So let's see what each one of them is, and what we can expect if we decide to stay in one of them.
Accommodations on an African safari are not what you imagine
Before going fully into characteristics and types of experiences. The first thing we must understand is that the terms are often interchangeable: a hotel is called a lodge or a camp when it is not exactly such.
It is important, therefore, to investigate the accommodation in question in detail to understand its characteristics, amenities, level of comfort it offers, and if it is the type of experience we are looking for.
On the other hand, it is also essential to take into account that the level of comfort, luxury, and amenities offered by lodges and camps vary. The experience of the African safari is closely related in our imagination to campsites: simple tents erected in the middle of the African savannah, a small group of people, and nature in all its splendor surrounding us.
Although part of this scene is real, the camps can be rustic and simple, or compete with the amenities and comfort of hotels in large cities, and some incurring the trend called "glamping" (a word that combines the concepts of glamour and camping), a luxury and ultra-luxury experience even in remote areas of Africa.
Different accommodations for different experiences and travelers
The most important thing about an African safari is to be clear about the type of experience or experiences we want to enjoy.
Do we want to venture out to see the Big 5 and return to the comfort of a room? Or do we want to be as close to nature as possible and experience the lifestyle of true outdoor camping, with its limitations and possible discomforts?
The spectrum of possibilities is wide, and it is based on the experience that we want to live that the accommodation or accommodations of a safari are chosen.
If you have a hard time deciding or the options are many, you can always rely on an experienced travel consultant, like those who are part of our team at Forest Travel, to plan the safari of your dreams, or that of your family (here are some reasons why it is worth going on a luxury family safari in Africa.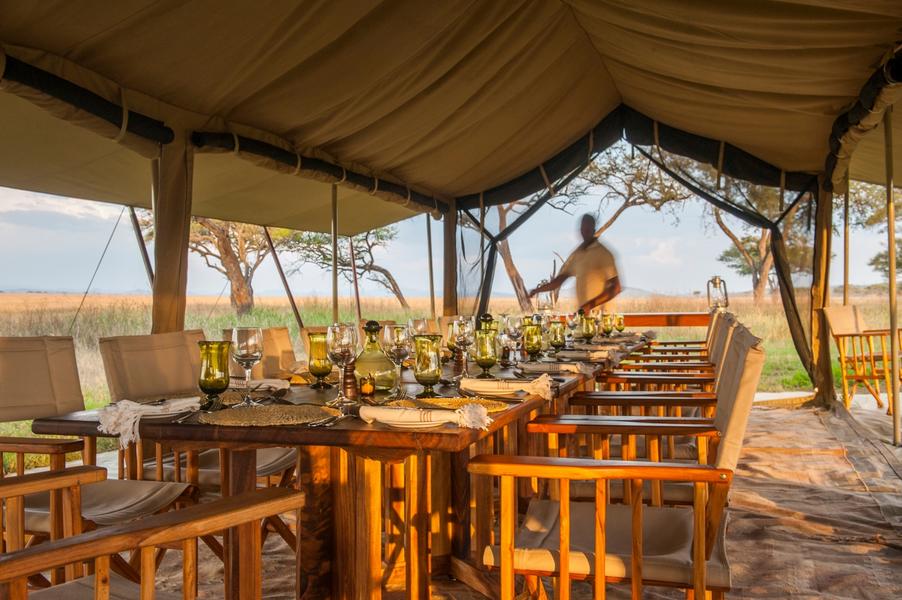 Lodges, tented camps, and other options for luxury African safaris
Lodges
Unlike camps, a lodge is a permanent construction. Originally, the term was used to identify a building, house, or cottage separated from the main building of a house and used as a resting place during certain seasons of the year.
And some of this is maintained, since in the case of safari, a lodge consists of a central common area and cottages or rooms distributed around it and a short distance from it. It is possible that the property is fenced and, in some cases, the rooms have their pool. This type of accommodation is usually located within or very close to national parks, nature reserves, or even in remote areas.
Since it is a permanent accommodation, it has amenities and facilities that bring it closer to a traditional hotel, although they vary in size and layout.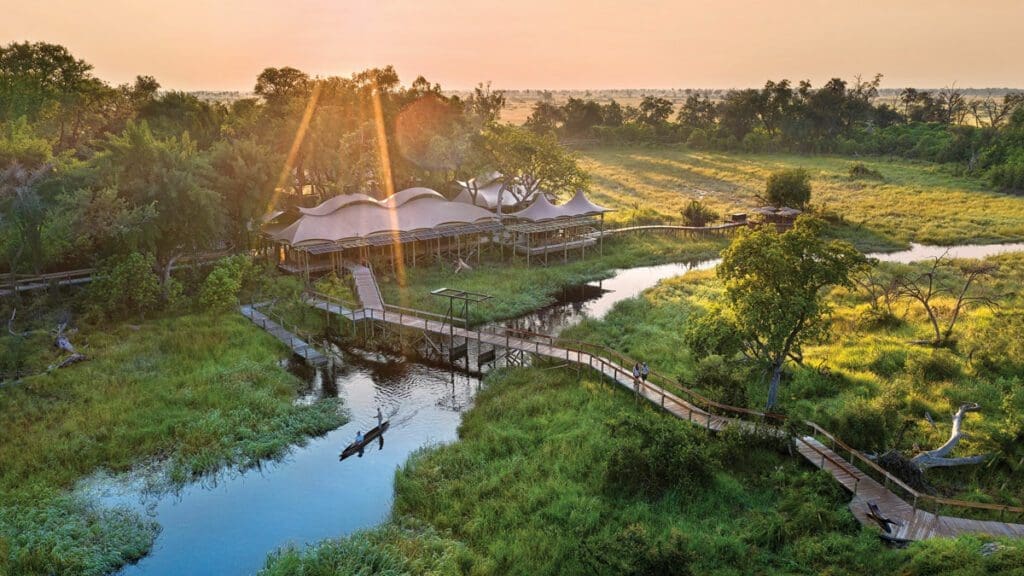 Tented camps, bushcamps, mobile camps, and fly camps
Let's first say that tented camps, bushcamps, mobile camps, and fly camps are, well, camps, but they are not the same.
Are they worth the experience? Of course. The camps offer the closest experience to what we imagine a safari can be.
Camps are usually smaller than a lodge, with the tented camps, for example, made up of around a dozen or more tents; these are temporary installations and their ecological impact is very low. Next, the bushcamps are smaller and off-grid, and the amenities may differ from those in the tented camps, although there are luxury and ultra-luxury options to choose from.
As for mobile camps and fly camps, they are small and designed for a very close and immersive experience, and offer the possibility of accessing remote areas. During the night, the only thing that separates us from the African savannah and its inhabitants is a tarp. In the case of these particular camps, they may not be available year-round.
You may think that the tents of these accommodations are small or uncomfortable, but luxury camps are common: their service, amenities, and facilities offer great comfort, style, and a variety of options, to the point that it does not seem that we are in the middle of a national park or nature reserve.
Although the camps are not fenced, they are secure. However, it is important to always follow the instructions of the staff and guides.
These camps can also be classified as:
The main characteristic of private camps is that they are exclusive for those who contract this type of experience, that is, there are no other travelers with whom to share the facilities or space.
Contrary to public camps, where we can share the common spaces with other travelers. If you are interested in meeting people and sharing experiences, the latter is a good option for it.
Adventure Camps and Full-Service Camps
If you are looking to live a hands-on experience, the adventure camp is the right option. In them, the guest participates actively, from setting up the tent and the camp itself, to packing and helping to prepare the meals. The level of comfort varies and sometimes only basic amenities are offered.
If, on the contrary, contemplation and comfort are you are looking for, the full-service camp is the best option, since it offers an experience closer to what you would have in a lodge or hotel, however, it still may have some limitations.
Seasonal camps are a type of mobile camp that is set up in one place and maintained for months. They usually follow the migration and movement of animal species throughout the year. This type of experience is for travelers who like to explore, are comfortable outdoors, and seek a closer relationship with nature.
The amenities and comfort they offer are high since they remain in one place for months and there is the possibility of installing furniture and other features of a stationary camp. It is important, however, to confirm availability and dates, as they may not be available all year.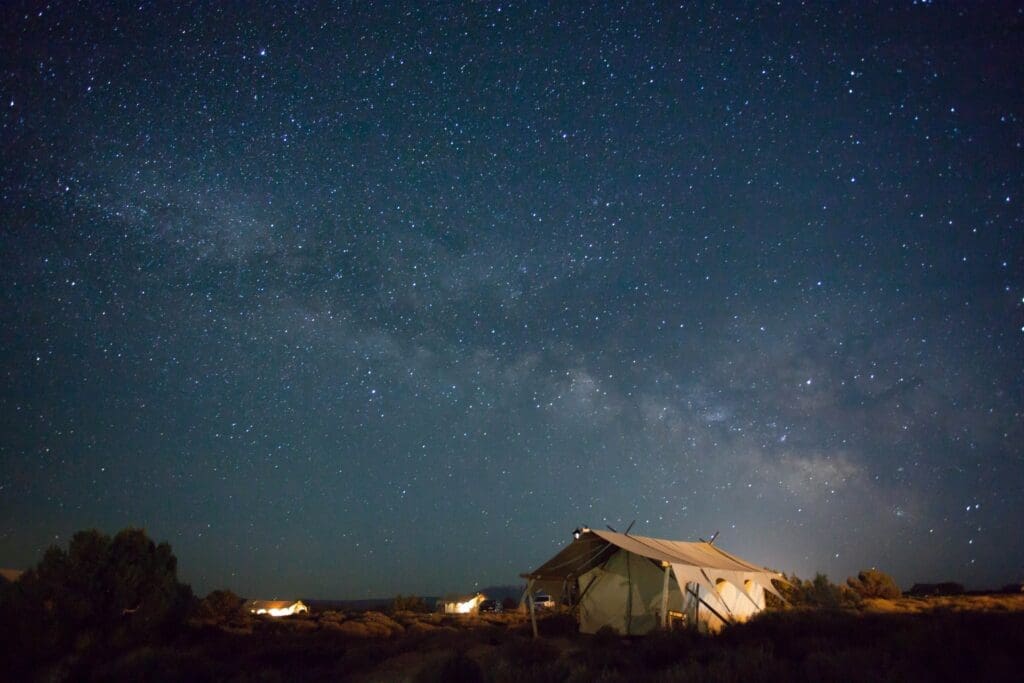 African safari and glamping
Glamour + camping. Glamping is a term that has gained popularity to illustrate a type of experience: camping that offers amenities, style, comfort, and luxury in one package. It's about, shall we say, experiencing nature in style. And African safaris have been offering it since before the term caught on.
This list is not exhaustive. Every time there are new experiences and types of approaches to luxury African safaris, designed to give the traveler a unique experience and contact with the wonders of Africa.
It is up to us to choose the type of travel we want to experience: adventure, comfort, or a mixture of both, if it appeals to you; or maybe you want to travel with friends, your partner, or family, there is an option for the type of experience you are looking for to share with them.
After all, it is the beauty and diversity of nature that calls us, our experience will be every time we travel there.